2023.04.24
ニチエス オルガテック東京 2023 出展情報
NICHIESU ORGATEC TOKYO 2023 Exhibition Information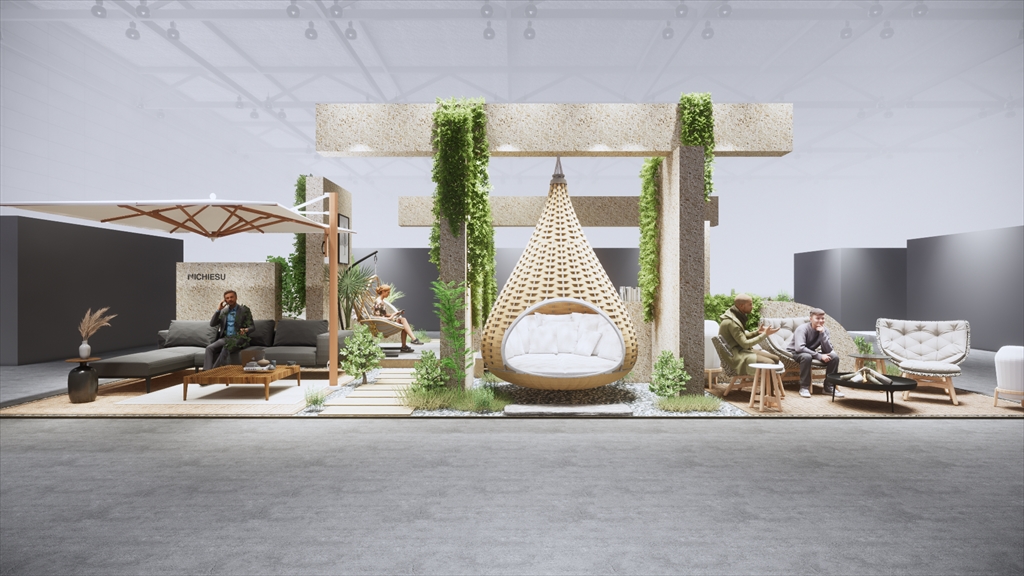 アウトドアリビングから生まれる新鮮な感覚を、多様なワークプレイスにむけてご提案します。
長い時を経て中と外が緩やかな境界で存在する遺跡から着想を得たブースのデザインは、屋内と
屋外を行き来し、「五感を刺激しながら働く」という新しいワークスタイルを表しています。自
然にちかい屋外家具だからこそ生まれる体感の変化を通じて、新鮮な瞬間をデザインしています。
We propose to bring the fresh sensation born from outdoor living to a variety of workplaces.
The design of the booth, which was inspired by remains where the boundary between inside
and outside existed in a gentle manner after a long time, represents a new working style of
"stimulating the five senses while working" by moving between indoors and outdoors.
Through the changes in sensory experience that arise from furniture that is close to nature,
we design a fresh moment.
すべての展示品は、過酷な屋外で使用できる対候性能素材を使用し、屋内外どちらの環境でも
使用できる家具で、すべてウォッシャブルです。
All exhibit items use weather-resistant materials that can withstand harsh outdoor
conditions and are furniture that can be used in both indoor and outdoor environments.
All of them are washable.
あなたのワークプレイスは、オフィス、住宅、カフェ等のサードプレイス、街中、あるいは大自然の
中かもしれません。ニチエスは働く環境の枠を大きく広げる居場所を屋外家具にてご提案します。
You may work from the comfort of home, in the hustle and bustle of a city, or lush greenery
in nature. NICHIESU proposes a place to belong that greatly expands the framework of the
working environment through outdoor furniture.
ブースのデザインについて
About booth design
永い時を経て研ぎ澄まされた遺跡の空間をインスピレーションに、時には室内、時には屋外を
想起させ、屋内と屋外を行き来しながら、「五感を刺激しながら働く」新しいワークスタイルを
表現しています。ブースは、それぞれユニットになっています。床材、壁材、使用している構成
部材の70%は再利用する目的で設計されており、短期間での廃棄素材を極力減らし、組み合わせの
変化とメンテナンスを行いながら、今後も継続的に使用できる構造になっています。床材を置く
ベースは家具などの輸送時にも使用する段ボールパレットを使用しており、使用後は回収し別の
利用にあてられます。本ブースは、ニチエスが掲げるJOY OF OUTDOOR LIVINGのアートワーク、
グラフィック、空間を2019年より手掛けるSPREADのクリエイティブディレクションによるものです。
Inspired by the space of remains that have been honed over time, the design evokes both indoor
and outdoor environments, expressing a new work style of "working while stimulating the five
senses" while moving between indoor and outdoor spaces. The booth is composed of individual
units. Seventy percent of the constituent materials used are designed for reuse purposes,
reducing waste as much as possible and enabling continuous use in the future by maintaining
and changing combinations. The base that holds the floor material uses cardboard pallets used
for transporting furniture, which are collected and used for other purposes after use. This
booth is created by SPREAD's creative direction of the artwork, graphics, and space of
JOY OF OUTDOOR LIVING, which has been pursued by NICHIESU since 2019.
 
クリエイティブディレクション:SPREAD 
設計:permanent
施工:3×8 Labo inc.
グリーンコーディネイト:TIMBERCREW
Creative direction: SPREAD
Design: permanent
Construction: 3×8 Labo inc.
Green coordination: TIMBERCREW
 
オルガテック出展者プレゼンテーション
4月27日(木) 13:45-14:30 西ホールエクスペリエンスゾーン
テーマ アウトドアリビングから発想するワークプレイスと広がる居場所
講演者 SPREAD 小林弘和
ニチエス株式会社 代表取締役社長 久野和雄
Orgatec Exhibitor Seminar
April 27th (Thu.) 13:45-14:30 West Hall Xperience Zone
Theme: Diversifying places and styles of Workplace inspired from Outdoor Living
Cases, Design and Materials from the world
Speakers: Hirokazu Kobayashi from SPREAD, and Kazuo Kuno from NICHIESU Co., Ltd.
 
アウトドアリビングから発想するワークプレイスと広がる居場所。あなたのワークプレイスは
住宅、街中、あるいは大自然の中かもしれません。世界のアウトドアリビング事例を、環境と
場所、人、家具、時間のデザイン、性能の観点から、国内外でクリエイティブ活動を行うSPREAD
と屋外家具を手掛けるニチエスがひもときます。
You can work from the comfort of your home, in the hustle and bustle of a city, or amidst the
lush greenery of nature. SPREAD, a creative duo active in the world, and NICHIESU, an outdoor
furniture specialist, showcase examples of outdoor living from around the world, focusing on
factors such as location, environment, people, time, design, and furniture features.
  

SPREAD 
山田春奈と小林弘和によるクリエイティブ・ユニット。長い時間軸で環境を捉えるランドスケープ
デザインの思考と鮮烈な印象を視覚に伝えるグラフィックデザインの手法を融合させ、
「SPREAD=広げる」クリエイティブを行う。
SPREAD is a creative unit composed of Haruna Yamada and Hirokazu Kobayashi. They combine
landscape design thinking, which captures the environment over a long period of time, with
graphic design methods that visually convey vivid impressions. With their creativity, they
spread their unique approach to design."
ニチエス株式会社 代表取締役社長 久野和雄
1958年に日本で初めての屋外家具を製造販売してから65年にわたり、屋外家具に特化して企画・
開発・輸入を行うニチエス株式会社。全国の屋外プロジェクトの家具を手掛ける。
Kazuo Kuno, The president of NICHIESU Co., Ltd., a pioneer outdoor
furniture manufacturer established in Japan in 1958, has been committed to planning,
developing, and distributing quality and durable outdoor furniture for the past 65 years.
With their mission to bring the joy of outdoor living from residences to workplaces,
NICHIESU continues to provide top-quality outdoor furniture.
出展商品一覧(図面付き) 
Click the link below for more details.
 ↓
https://www.nichiesu.com/NICHIESU ORGATEC TOKYO 2023 more details.pdf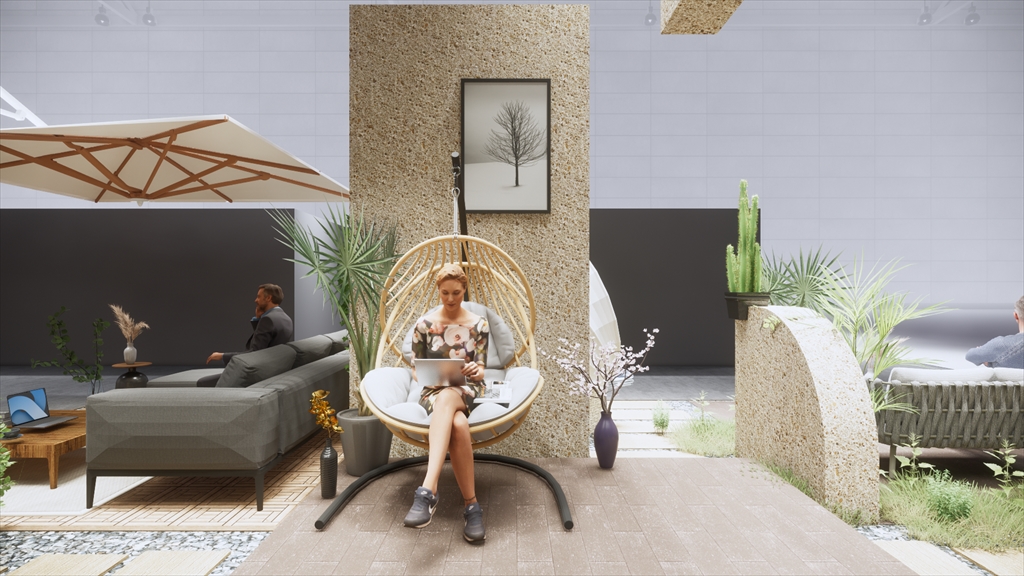 キダ
オープンエアなフレームで、そよ風を感じ、そよ風とゆれるラウンジチェア
KIDA
In an open-air frame, feel the gentle breeze and lounge with the breeze.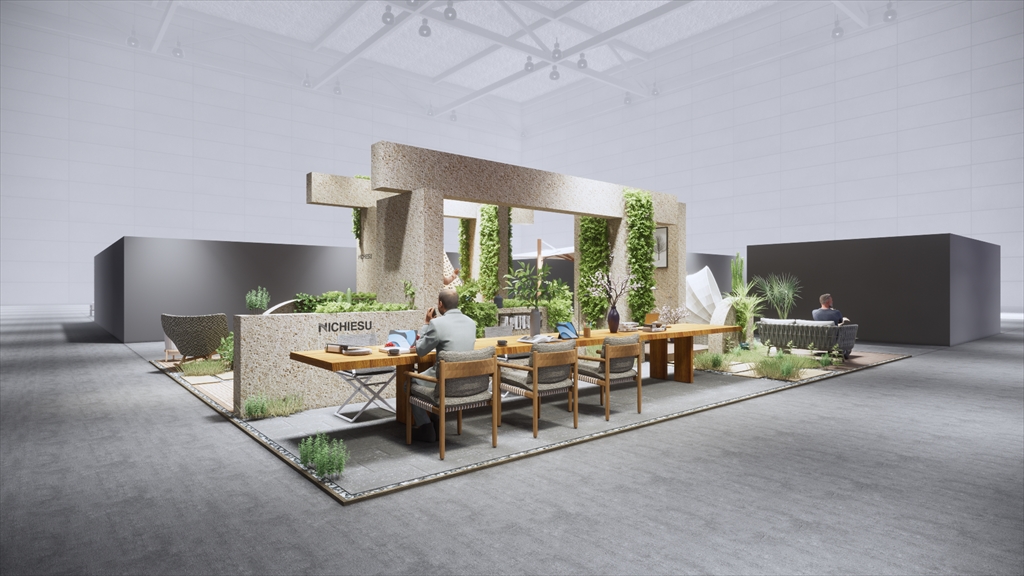 ライブエッジマッシブチークテーブル
5.4mの1枚板のテーブル。ある時はワークプレイスに、ある時は大勢でのミーティングプレイスに、
そしてある時は集いのダイニングスペースとして。
Live-edge massive teak table
A 5.4m single solid board live-edge massive teak table that serves as a workspace,
meeting place for many, and dining space for gatherings.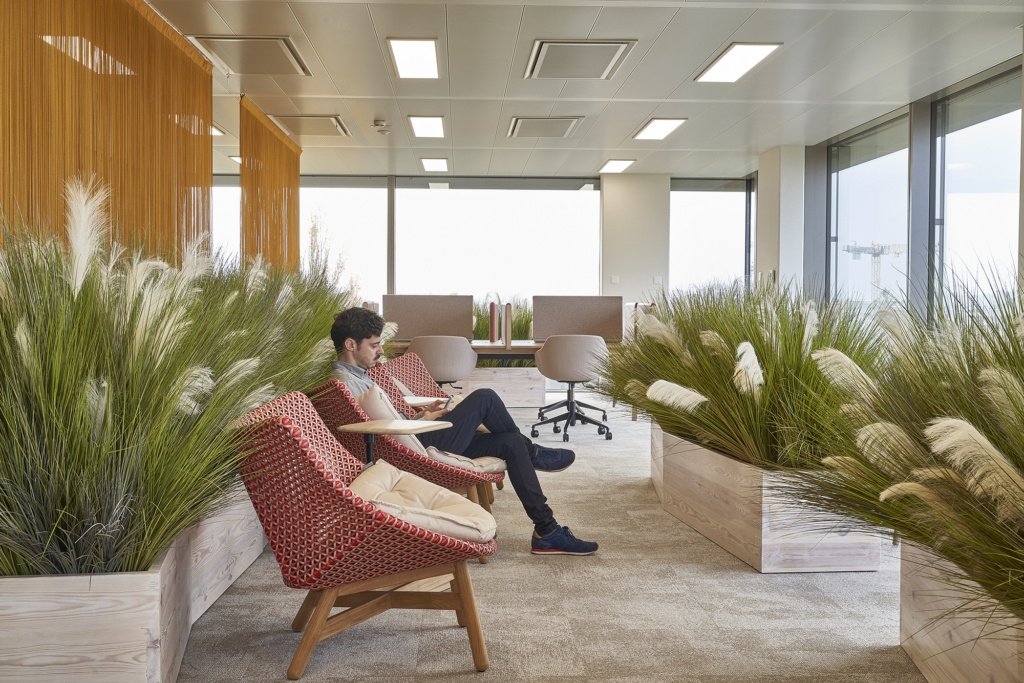 エンブレイス
極上の座り心地で気分転換にも最適なラウンジチェア。背後の視界を遮り、程よくプライバシーを
確保できるウィングチェア。寛ぎと体感の変化が生まれるロッキングチェア。焚火を囲むような
カンバセーションの時間が生まれるクラブチェア。
Embrace
A lounge chair with the finest seating comfort, perfect for relaxation and mood
enhancement. A wing chair that blocks the view from behind and provides a moderate
level of privacy.A rocking chair that creates a sense of relaxation and physical
change. A club chair that creates a conversation time like sitting around a campfire.
Project: Corporate Offices for GAVI ALLIANCE
Interior Design: Bloomint Design
Picture: Margaret Stepien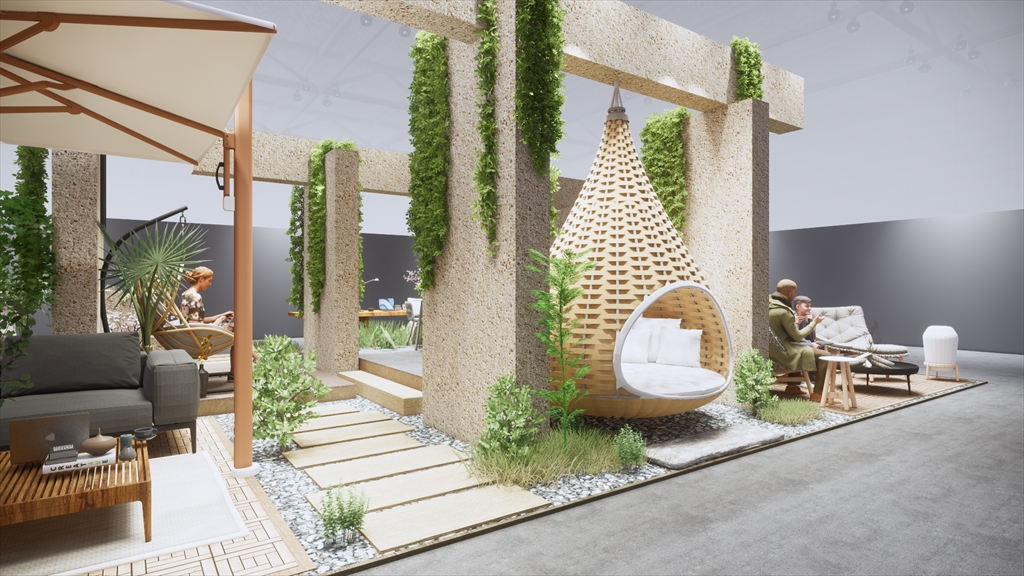 ネストレスト
光と影の体験、休息、そしてあなただけのプライベート空間。
Nestrest
Experience of light and shadow, relaxation, and your own private space.

DIGITAL CATALOG はこちらから
---
JOY OF OUTDOOR LIVING IN WORKPLACE
メインブースに加え、Xperienceゾーンでは、Joy of Outdoor Livingを通じて、人々が実感する
リラックス、きずな、思索をなどの仕事時間を屋外家具によって体現し、コーポレイトが期待する、
ウエルビーイング(well being)、エンゲージメント(engagement)、帰属(belonging) 、 
集中(productivity) の4つの時間を創出します。
In addition to the main booth, the Xperience Zone embodies the four corporate expectations
of well-being, engagement, belonging, and productivity through outdoor furniture that
allows people to experience relaxation, bonding, and contemplation during work hours.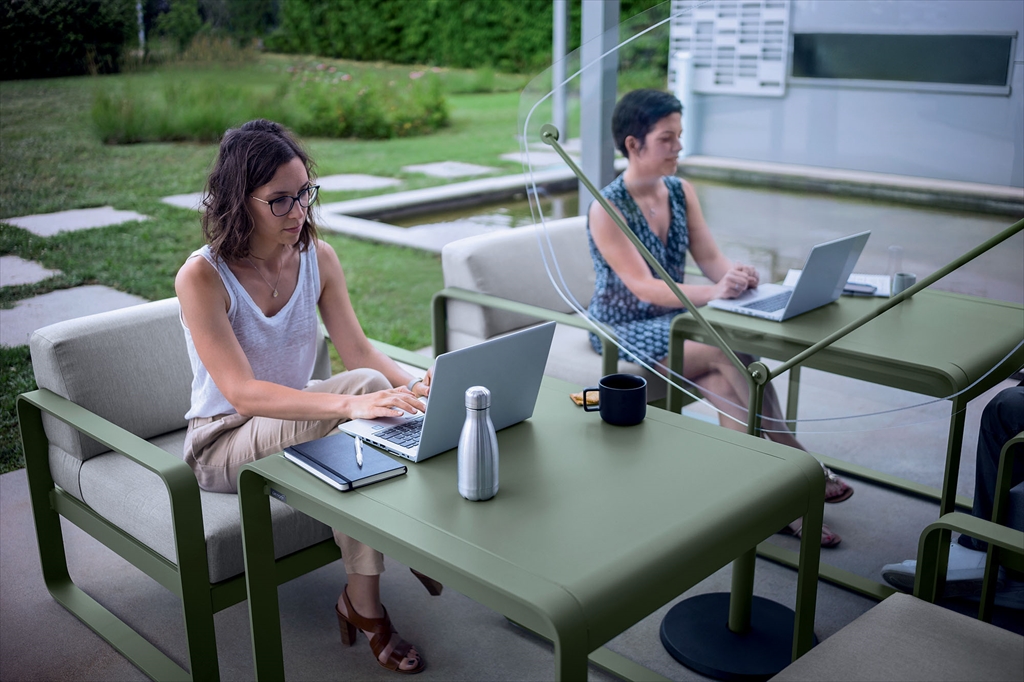 Moment of productivity
優しく降り注ぐ光と新鮮な空気が他人の気配を取り去ります。
自分をコントロールして集中できる時間です。
The gentle falling light and fresh air remove the presence of others. It is a time where
you can control yourself and concentrate.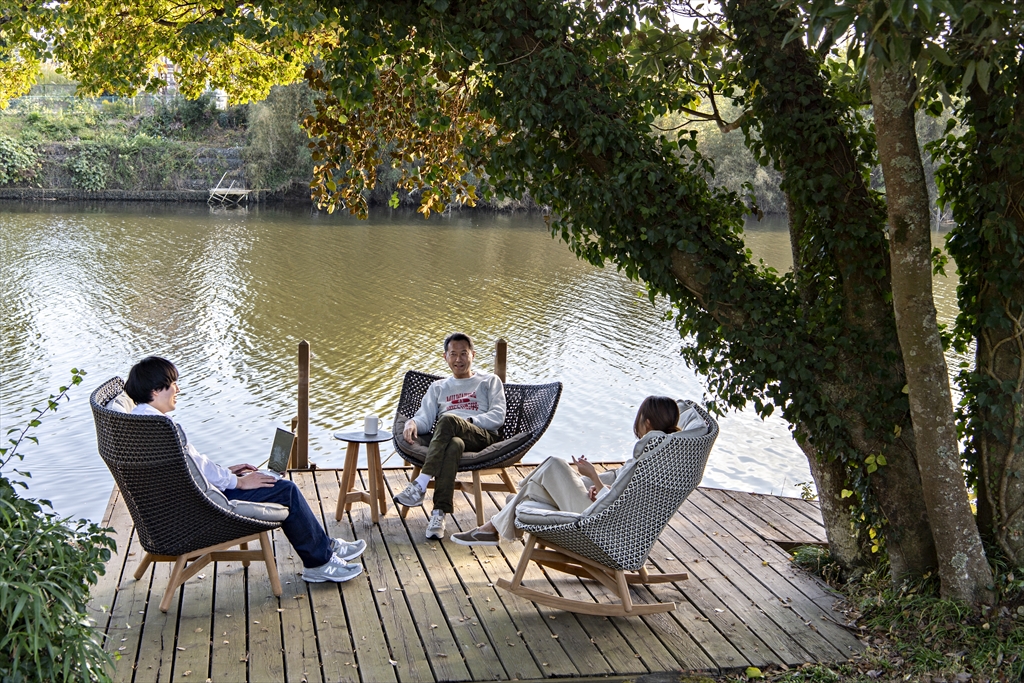 Moment of engagement
個人の成長、自己実現が働き甲斐を高め会社ビジョンの実現に貢献します。
エンゲージメントの上がる時間が求められています。
Individual growth and self-realization contribute to increasing motivation and realizing
the company's vision. There is a demand for time that raises engagement.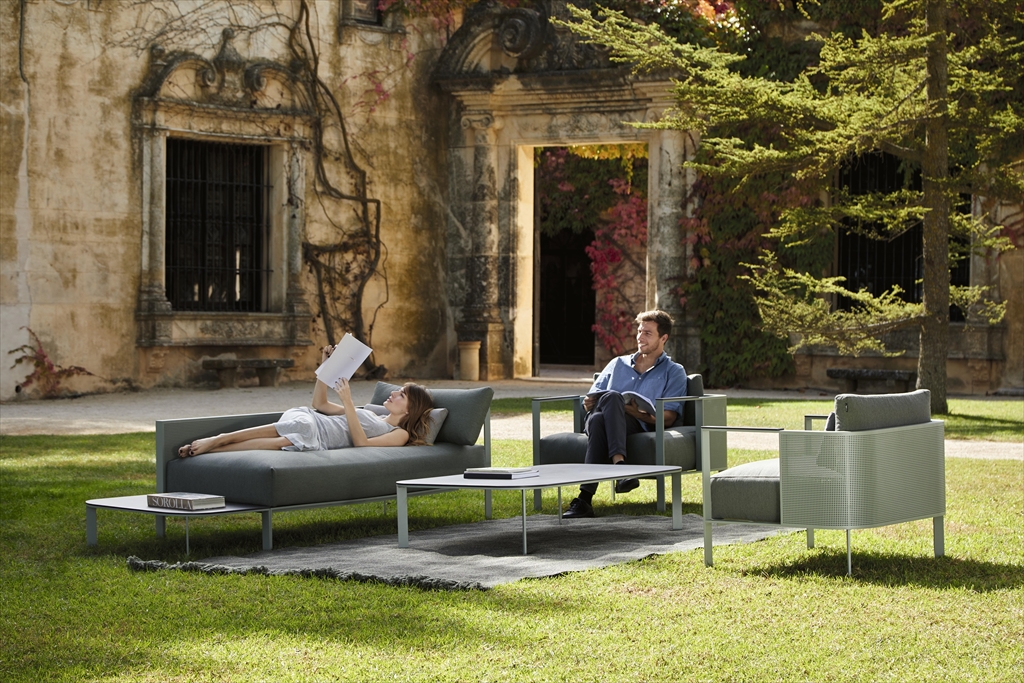 Moment of well-being
風が流れる屋外で過ごす安心、安全のリラックスのひと時。
気分転換で新たなアイデアが浮かびます。
Spending a relaxing time in the outdoor breeze provides a sense of security and safety.
It can lead to new ideas during a change of pace.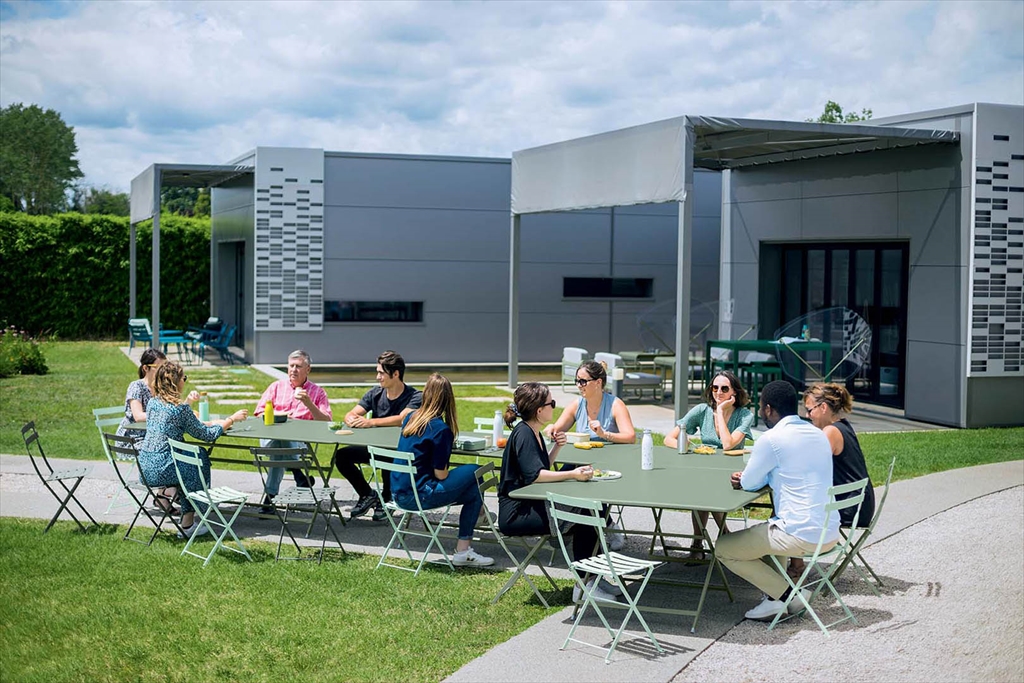 Moment of belonging
ダイバーシティがあるから何気ない会話にも刺激を受ける。
それでいて自分の居場所を確認できる心地良い瞬間です。
Diversity allows for stimulating conversations even in casual settings. It's a comfortable
moment where you can confirm your own sense of belonging.
---
Joy of Outdoor Living をご一緒に